Stiletto nails have taken the nail art community by storm in recent years, but just like any other art form, the perfect stiletto nail design requires incredible technique and a little creativity. Stiletto nails have made us step outside of the square and oval nail standard and have added a little spice to the nail world. When done right, this shape can make your nails and fingers appear slimmer and longer, but if they're off they can instantly make your nails and fingers appear short and stubby. Here are some of my favorite stiletto nails from top nail art pros (click on images for pros):
Solid colors with a single glitzed out nail or a combination of matte and shiny finishes are simple, sleek and sophisticated. Stiletto nails are ideal for wearing heavy 3D nail art so go crazy with the glitter, rhinestones, and nail decor. Matte finish top coats make it easy to create a fun French design.

Striped patterns provide a gorgeous design. Try picking a color scheme of two colors with an intense contrast and stick with it throughout your design. Again, tons of rhinestones will add major glam.
Chevron-ish print goes with the natural lines of the stiletto shape giving nails a simple, yet very structured look. For a work-appropriate style, opt for basic colors like black and white.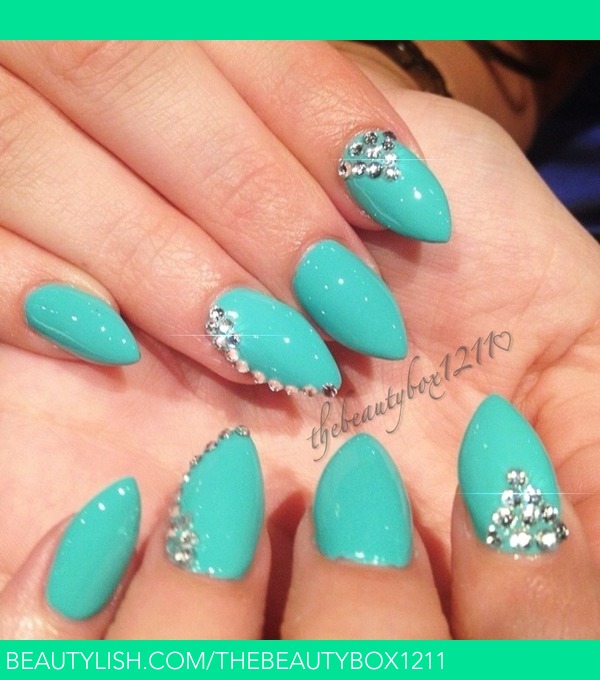 Not a fan of heavy decor regardless of the nail shape? Carefully placed, clear crystals offer a more subdued feel. If you want a more playful look, opt for a bright Tiffany blue. If you're going for a softer option, pale pink or nude works wonderfully on stiletto nails.
Give the classic French manicure a twist by using a vibrant color rather than the standard white. Lana Del Ray does it right in red French tips. The key is getting an even "V" of color on the ends, instead of edges that taper off into too thin of a line.
A solid red gives stiletto nails a classic Hollywood look. Think Marilyn Monroe and the other blonde bombshells from that era. The shape and color are similar to nail trends during that period.
You can't get any closer to wearing a stiletto nail than by choosing for a design that is created after a famous heel. Black nails with red underneath are the perfect portrayal of Louboutin heels making them the ultimate stiletto nail.
Caviar with a gradient effect adds an element that looks almost like water droplets running down the nail. To do this quickly at home, cover the tip or base with adhesive and work your way down or up with a more sparse application of the adhesive. Dip your stiletto nails into nail caviar and voilà!
Polka dots add a funky and modern vibe to stiletto nails. Plus, they're incredibly easy to do. Choose your base color and let it dry, Then, use a dotting tool to add dots wherever you'd like.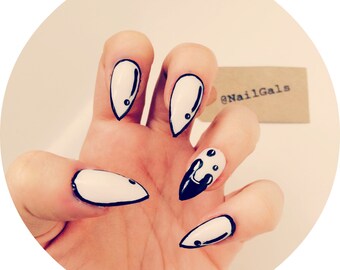 Unique abstract or  pop art designs like lined diamond designs or cartoon-inspired nails are one-of-a-kind.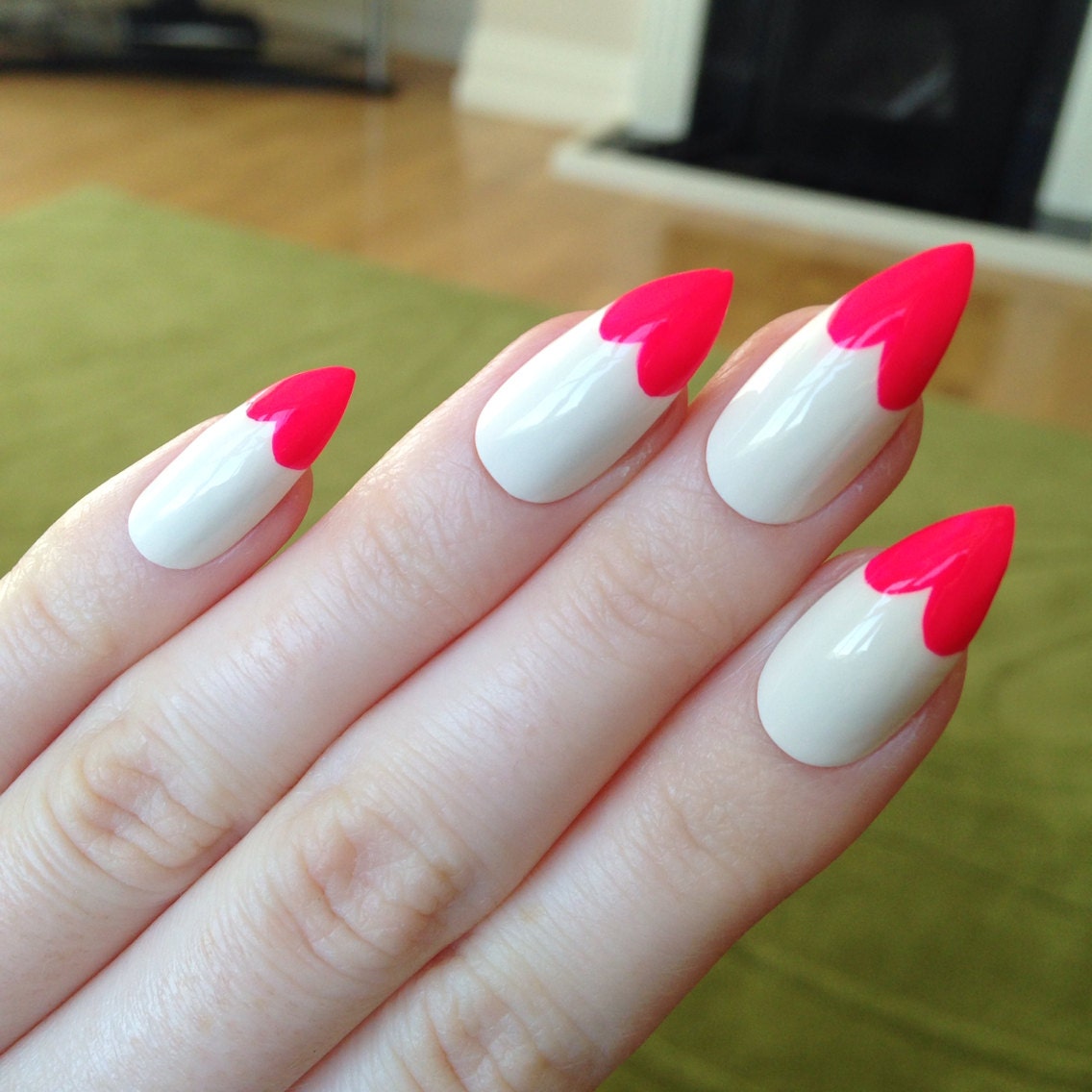 Whether it's Valentine's Day or not, heart tips that meet at a perfect point will get you out of the everyday French manicure funk.
Nautical themed nails are fun and trendy, but are still toned down enough for semi-professional environments.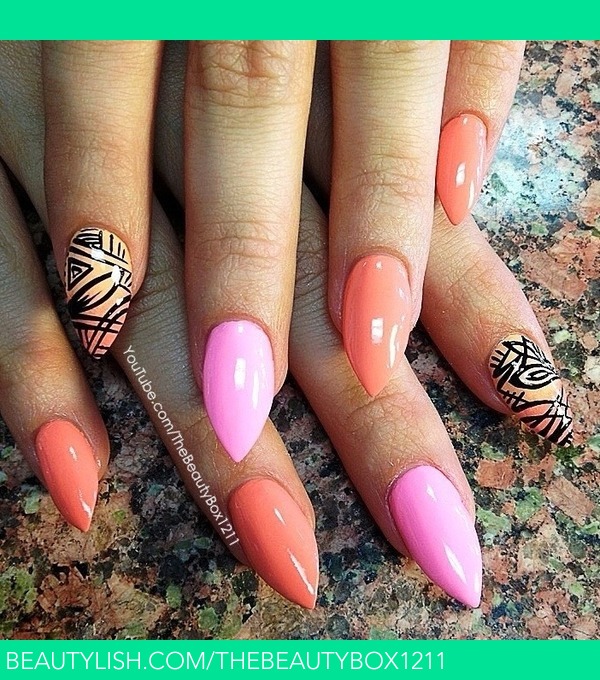 Aztec print nails are cute and quirky and they're perfect for warmer months. Choose a color scheme that matches your new swimsuit or favorite sundress or go for bright summery colors like pink and coral.
Foil is a cheap, easy and quick way to incorporate the current metallic trend into your look. Plus, if your manicure isn't fresh, you can simply add adhesive to chipped polish and roll your finger over some nail foil for a just-done finish.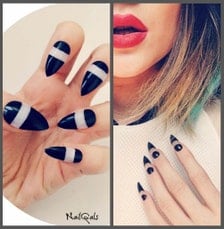 Kylie Jenner made the see-through and solid color stiletto nails a hit. Just be sure to keep your nails in tip top shape to avoid a peep show of a yellowed or dirty nail bed.
A cross design sits perfectly on this particular nail shape making it the ideal nail art choice for pointed tips.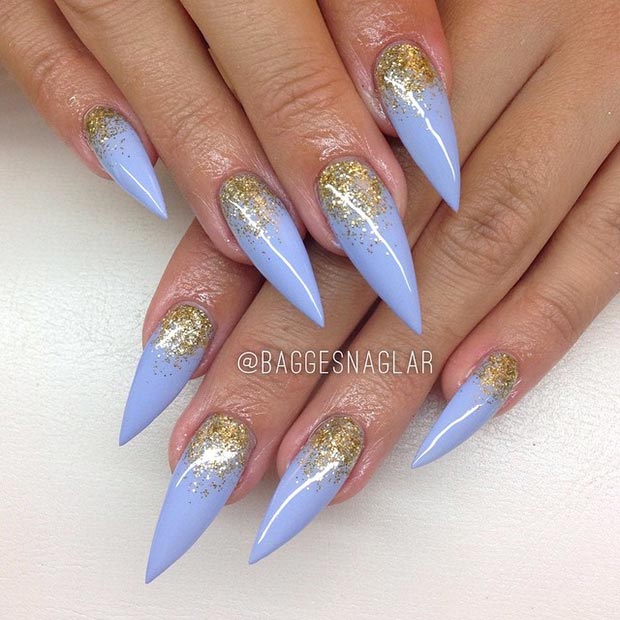 A little bit of glitter will instantly transform your stiletto nails. Just be sure to spread it out and remember, you will have to thoroughly saturate your nails to remove glitter.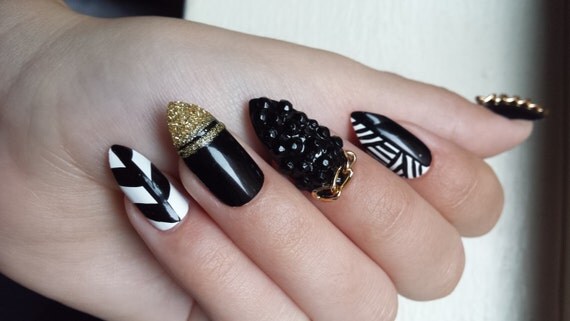 Decorative chain adds an edgy look to nail art and works perfectly with the latest leather leggings and motojacket street style.
Outlined nails look particularly gorgeous on the rounded edges of a stiletto nail. Play with different color combos and opt for a mix that has tons of contrast.
Paint splatter nails offer a fun and funky effect. Just grab your paint and a straw and blow!
Peacock inspired nail art looks amazing on stiletto nails as the feathery design fits perfectly on the shape. Plus, you can add extra sparkles and rhinestones for an amazingly polished look.
Nude polish always looks fantastic on stiletto nails. You can even add a touch of glitter or solitary rhinestones for a subtle sparkle.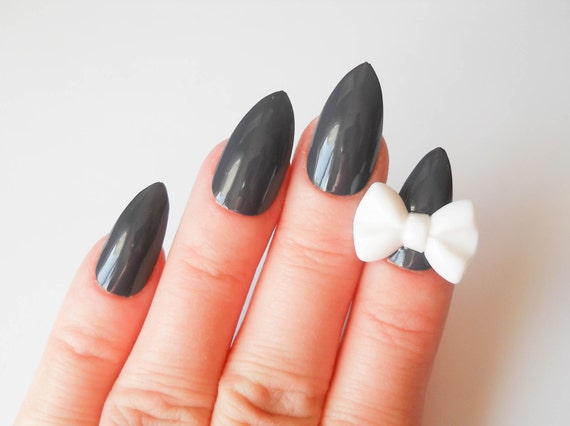 3D bows are often used on stiletto nails since they nestle perfectly near the base of the nail and have a flirty, feminine effect.
The whole idea with stiletto nails is to file them into a gorgeous curve at the very tip. For the ideal stiletto nail, be sure to keep the bottom portion wider and gradually thin the tip to a point. You want to avoid thinning out the base of your nail too much or creating too harsh of a "V" shape at the tips. Round off the point of your nails to prevent them from being too sharp and give them a polished look. Here's a handful of additional looks to learn from and bring to your nail tech for inspiration. Remember to click on the images to visit the artist and learn more about how they got this look.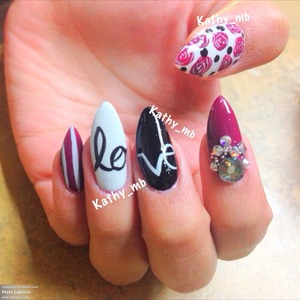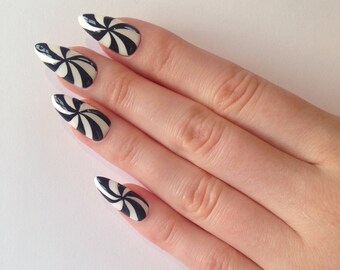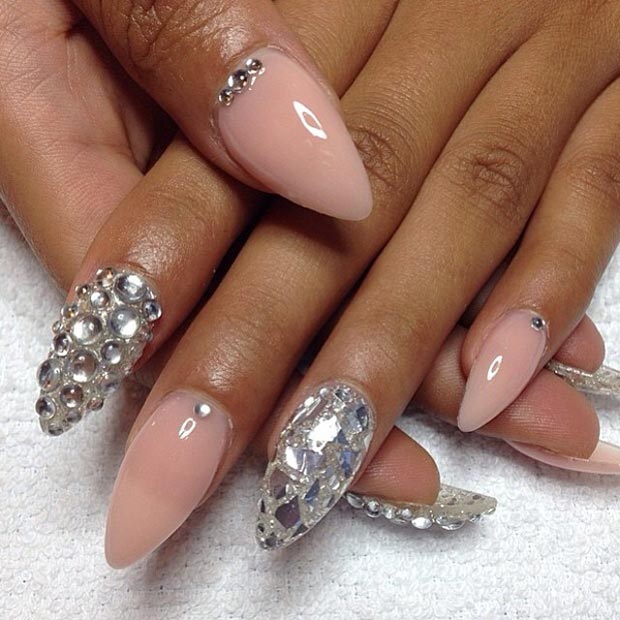 Love these looks? Have a great stiletto nail look of your own? Submit your nail art to be featured in this article and on our social media pages via our contact page.